Sale!
Bio10 Forte Intensive Depigmenting Ampoules
Sale!
Ampoules are stable, hygienic, and sealed until you are ready to use them. It can be beneficial for all skin types and concerns. Concentrated formula with highly effective anti-dark spot actives to illuminate the skin.
Intensive anti-dark spot treatment with the exclusive B-CORE 221TM depigmenting technology. An encapsulation and targeted release system that acts directly on melanin-producing cells where it releases its depigmenting active completely obtaining maximum efficiency.
• Faster and more effective depigmenting action that acts directly inside the melanocytes.
• Prevents the appearance of new spots by inhibiting the production of melanin.
• Antioxidant, neutralizes free radicals and lightens the tone of existing spots
• Protects against external aggression from environmental pollutants and UV radiation avoiding the formation of possible stains.
• Always uses in a pair of Bio10 Forte Serum Shock Treatment (in different skin types) to obtain the best anti-dark spot result.
Hypoallergenic. Tested under dermatological control. Respectful of the skin and nature.
Out of stock
Ideal For:
Skin affected by dark spots caused by the sun, hormones and melasma, liver spots, post-inflammatory blemishes caused by dermatological treatments, blue light damage, environmental damage, acne blemishes and scars.
Application:
Use it day and night. Apply sparingly to the face, neck and décolletage after cleansing, massaging in gently until fully absorbed. Treatment requires a minimum of 8 weeks (results visible from 7 days). 15 ampoules contain more than 30 doses
Ingredients: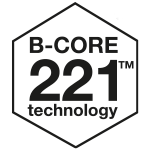 B-CORE 221™ Smart delivery system
Carries active ingredients straight to the melanin-producing cells to release all its encapsulated ingredient for maximum dark spot efficacy. (highlight patented technology)